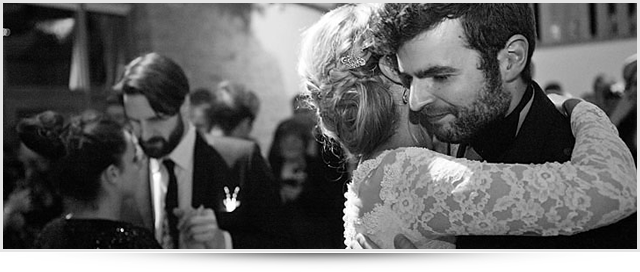 Since 2002, The Wedding Players has been dedicated to supplying a tailored DJ service to wedding couples in the South West of England (Bath, Bristol, Tetbury, Somerset & South Gloucestershire); a move away from the feared 'Mobile Disco' and 'one man band'
Special attention is given to your Musical Requirements, the quality of Sound & Lighting and the overall appearance of your disco and DJ.
Why the Wedding Players?
Too often a wonderful wedding can be tarnished by the quality of the DJ entertainment. Why?
Untidy appearance of the equipment or scruffy DJ (the Polo Shirt and Buffet brigade!)
Poor sound quality (and /or inappropriate volume) and Poor music choices
Our pledge is to not let this happen to a Couple on the most special of nights.
For you we provide:
Professional, well-dressed and courteous Wedding DJs with a wealth of experience in wedding parties, bars and clubs, in the UK and overseas
Contemporary, yet Classic, Simple Presentations in 'Wedding White' or 'Classic Black' (neat, stylish and uncluttered) (and for Country weddings – Rustic DJ Booths)
High specification sound & light
A service that encourages your music ideas for the party

An unrivalled passion for Wedding Parties – to give you the party you've dreamed of; to sound and look fantastic

A back-up service (for reassurance that the party will go ahead)

A friendly, knowledgeable and inclusive service available to help you at any stage of your planning process
Who are we?
All our team our dedicated full time DJs (not part time hobbyists); with Lee & Caroline managing the office and customer and venue relations from Monday to Saturday.
The team that now consists of 8 x DJs (Chris, Alan, Jon, Darren, Dave, Paul, Gavin & Lee), 1 x Full Time Manager and Co-ordinator (Lee) and the person who scrutinises our work (Caroline)
Lee's experience includes a management degree from Warwick University, 8 years Account Management with Bass Brewers (Coors) in the Hospitality Sector, and of course many years of DJ-ing, with free-time mainly occupied with grass roots football coaching for local youth teams, and family trips in the Bongo camper van!
Factors that we feel differentiate us:
– we are all skilled DJs who have been resident DJs at venues, clubs, bars, and for promoters ( not your stereotypical 'Wedding DJ')
– we are 'recommended' or 'preferred supplier' to more venues than any other company in our region; for which we are very proud to have their stamp of approval
We are also proud to support all forms of marriage, and really welcome LGBTQ couples to use our services (#youdontneedtoask)
Awards / Testimonials
Customer Service Award Finalist (Guides For Brides 2020/2022)
Best Wedding DJ (South West England & National Finalist) (The Wedding Industry Awards 2015)
Customer Service Award – Bristol (Lux Magazine 2018)
Best Bespoke Wedding DJ Company – South West England (Lux Magazine 2019)
Please see the customer testimonials in our
Useful Info section,

or request our most recent.