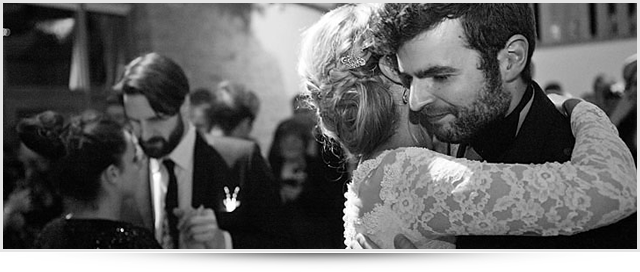 Since 2002, The Wedding Players has been dedicated to supplying a Bespoke DJ service to wedding couples in the West of England (Bath, Bristol, Tetbury, Somerset & South Gloucestershire); a move away from the feared 'Mobile Disco' and 'one man band'
Special attention is given to your Musical Requirements, the quality of Sound & Lighting and the overall appearance of your disco and DJ.
For you we provide:
Professional, well-dressed and courteous Wedding DJs with a wealth of experience in wedding parties, bars and clubs, in Britain and overseas
Contemporary, yet Classic, Simple Presentations (in Wedding White or Classic Black) (neat, stylish and uncluttered)
High specification sound & light
A service that encourages you to specify the Music you want to hear at Your Wedding.

An unrivalled Passion for Wedding Parties – to give you the party you've dreamed of – it will sound and look fantastic!

A back-up service, so that you can be rest assured that you won't be let down

A friendly, easily reachable service willing to help you at any stage of the process
Why the Wedding Players and meet the team………
Having been a guest at many of my professional friends' and colleagues' weddings, I (founder Lee Probert) was surprised at how many times an otherwise stylish event was tarnished by the quality of the DJ entertainment. Whether it was the messy appearance of the equipment or the DJ himself (and his entourage!), the quality of the sound (or inappropriate volume) and most of all, the choice of music – of which the brides and grooms confessed to having not been consulted on; it left me thinking that these djs didn't place enough importance or attention to detail on the couple's real requirements.
Hence, I set up the Wedding Players – a team that now consists of 6 x DJs (Matt, Chris, Alan, John, Darren & Lee),  1 x Full Time Manager and Co-ordinator (Lee) and the lady who scrutinises our work! (Caroline)
All our team our dedicated full time DJs (not part time hobbyists); with Lee managing the office and customer and venue relations from Monday to Saturday from 9am each morning.
Our blend of customer focus,  dedication to our Couples' weddings, and unrivalled skill and ability as DJs,  was rewarded recently by winning:
The Wedding Industry Award for the Best Wedding DJs (2015) in the South West of England
Please see the customer testimonials in our Useful Info section, or request our most recent.